D A K O T A
AND
A N G E L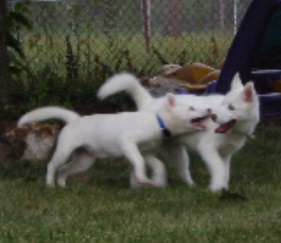 After 6 weeks apart, we got to visit
one another today!!
We played and wrestled and tumbled and
enjoyed our afternoon together.
We hope our "human parents" will schedule
more play-dates for us in the future.



To see more of our play-date, click
the flashing paws


THIS ISN'T HOW YOU PLAY LEAP-FROG!!




CAN WE TALK?




I HAVE A SECRET! SHHHHH!!! DON'T TELL!




BUT I'M ON BASE!! YOU CAN'T GET ME!
CHOOSE AN OPTION FROM THE DROP-DOWN MENU
TO NAVIGATE MY WEB SITE
If you don't find it in the list, Choose INDEX

Playing ~ RUGRATS